Pressure is impacting the senior leadership of Shabaab. There have now been a series of reports, from online and private sources, indicating significant unrest in controlled territory. Infighting between Abu Ubaidah (Diriye, the overall Emir) and Abdirahman Warsame (Karate, his deputy Emir) has broken out, with confrontation observed between aligned clan militia groups in the Juba river valley, including their heartland of Jilib. Karate has probably always sought the overall leadership position in Shabaab, and following a recent series of setbacks for the group, is trying to exploit the momentum for his own personal gain.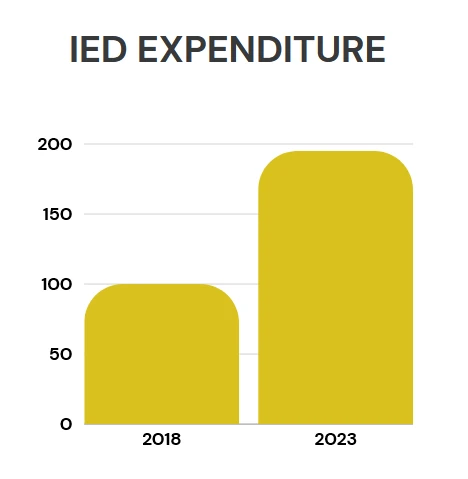 This in-fighting comes at a challenging time for Shabaab. The central-Somalia campaign was launched by the Somali National Army in mid-2022, with support from the Macawiisley, ATMIS and international partners. While it has had mixed success, it did mark the first significant pressure on Shabaab for a number of years, publicly catching the group off-guard. Reports indicate that at least 1.2k militants have been killed in the fighting, restricting financial income, degrading propaganda outputs, dampening military capabilities, and forcing a hasty reallocation of Shabaab's resources into Hiraan/Galmudug. This rationalisation is best observed when considering the refocus of Shabaab lethal activity (as reported by ACLED), with IED expenditure in central-Somalia up 195% on five year averages, and as many attacks in 2022 as in 2018-21 combined (trends from 2023 look similar). This is at the expense of activity against the federal government, ATMIS, and foreign interests in Mogadishu, down 25% on averages (the downward trend is continuing into 2023). Regional Shabaab commanders have been frustrated by the lack of perceived support from Jilib, undertaking hastily planned attacks characterised by high collateral damage, which further alienate a disenfranchised population. Shabaab is yet to fully comment on the 23 Sept truck bombing in Beledweyne, which killed 36 civilians, striking a vivid similarity to the 2017 truck attack in Mogadishu. They were also unsuccessful in the 5 Sept attack on the Somali President (Hasan Sheik Muhammed) in Mahas, 15 Sep attack on Galmudug President (Qorqor) in Beletweyne, and 28 Sep attack (again targeting the Somali President) in Dhusamareb. Karate, as the head of military operations, likely feels this pressure from regional commanders more than most, as he is forced to strike local deals with clan elders to stem defections. Diriye is almost certainly unimpressed with his performance, both in anticipating this offensive through Amniyat intelligence, or countering it through Jaysh-Ayman military capabilities.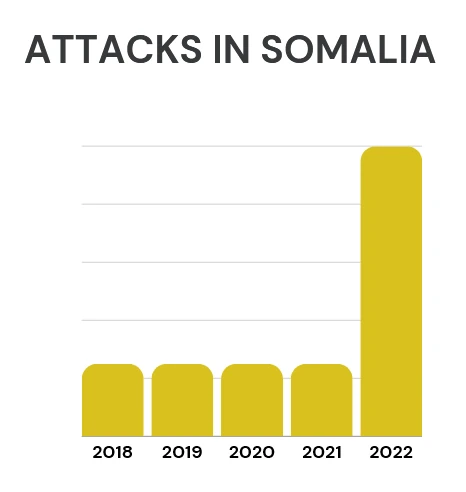 But Diriye's attention is likely constrained by pressure in the home-front, and the resumption of CT pressure targeting Jilib directly. The US has a long history of targeting the group, and while there was a decrease during 2021/2, 2023 has seen a return to historic levels (17 airstrikes this year to date). Since 2022, there has also been a plethora of Kenyan, Turkish and the UAE strikes; even the Somali National Army now has a nascent air capability. Targeting has focussed on senior leadership, capability generation, and regional commanders, significantly degrading moral in the force, and weakening their fighting power. As such, physical contact between leadership figures has become ever more constrained, focusing a reliance on couriers/messengers, and increasing the chances for miscommunication between strong personalities. It also increases the number of individuals aware of the locations, intents and contacts of leadership figures, heightening the risk of espionage, and increasing suspicion over the group; there have numerous 'spy' purges in Jilib during 2023. Through the chaos, Karate likely sees opportunity for fractions to emerge along religious, tactical or clan lines, with rumours of Diriye's ill health from Shabaab insiders (widely reported in Jan) most likely an indication of this online.
More broadly, the ideological focus of Shabaab is ever challenged. Islamic Relief reports that 25% of Somali persons have been internally displaced by conflict/drought, with 50% of the population relying on international humanitarian assistance, but Shabaab continues to blockade aid reaching controlled areas (such as the de-facto siege of Baidoa in Jun/Jul). Irrespective of national challenge, the group seeks to project an international status, recently commenting on the Israel/Palestine conflict in Arabic (rather than Somali/Swahili), and continuing to pledge support to AQ (despite having no publicly avowed Emir). Large volumes of taxes being raised by the group (the US Treasury estimate $100 million annually) help enable other financially failing AQ affiliates, globally dispersed, but connected through a significant smuggling operation in the Gulf of Aden. Their investment in Yemen has been significant, seeing a large offshoring of vital Somali reserves, seeking to offset AQAP's poor financial position. The requirement for an increased public prominence of Khalid Batarfi (the AQAP Emir) highlight the concerns in the 'rank and file' members over their mismanagement of finances, and there have been a high degree of defections over lack of missed salary payments. Somali money is being used to solve Yemeni problems, with Batarfi delivering 'vanity' capabilities such as their unsuccessful tactical-UAS programme, over tangible military success against the STC/UAE. As a key proponent for the alignment to AQ, Diriye is almost certainly under pressure to show some return on investment for a significant outflow of finances.
So with a ground offensive, airstrikes, and financial outflow, it is unsurprising to observe conflict between Diriye and Karate. Both individuals seek a consolidation of power, promoting their own interests over that of either Shabaab or Somalia. While there is uncertainty, it is over how long this particular fracture will ensue, it is almost certain that future alliances/frictions will be defined from this fissure in the core. At an epoch in the trajectory of the group, in the context of a post-ATMIS and post-Farmajio Somalia, and with western backers seeking a stable/persistent outcome, an olive branch to for integration into the federal system (akin to Muktar Robow) becomes an appealing opportunity for an ambitious deputy. The counterfactual is a fractured group with declining influence, beset with infighting between factions, and characterised by defections into the new-normal in Somalia.